Even with 6,070 articles, and 7,442 files, we still need YOUR help expanding and adding articles to the wiki!
---
---
If you're new to Wikia, please use the above links to get started.
If you already have editing experience, and you have an article relating to Lord of the Rings to contribute, use the box below to create it:
Thank you!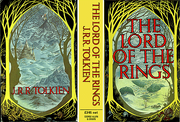 The Lord of the Rings is an epic fantasy story written by J. R. R. Tolkien. The work's title refers to Sauron, its primary villain. Originally, the story was released in three volumes, named The Fellowship of the Ring, The Two Towers and The Return of the King.
The Lord of the Rings is an epic high fantasy saga by British author J. R. R. Tolkien, his most popular work and a sequel to his well-received earlier work, The Hobbit. The Lord of the Rings was originally published in three volumes in 1954 and 1955. Three film adaptations have been made of the story told by the books: the first, by animator Ralph Bakshi was released in 1978 (as part one of what was intended to be a two-part adaptation of the story); the second, a 1980 television special; and the third (by far the most popular), director Peter Jackson's epic film trilogy, released in three installments in 2001, 2002, and 2003 which starred Elijah Wood as the main character of Frodo.
Tolkien had a deep desire to write a mythology for England, especially after his horrific experiences during the First World War. Thus to understand his writings we must be aware of how Tolkien the scholar influences Tolkien the author. The writer of this mythology emerges as an Oxford philologist well acquainted with Northern European Medieval Literature including the great mythic works such as the Hervarar saga, the Völsunga saga, the influential Beowulf as well as other Old Norse, Old and Middle English Texts. He was also inspired by non-Germanic works such as the Finnish epic Kalevala.

What games have you played before that is related to Middle-Earth?

 

What is your favorite ending credits song?

 
| | |
| --- | --- |
| | Déagol was a cousin of Sméagol. On one of Sméagol's birthdays, they both went fishing, and Déagol was pulled underwater by a big fish. It was then that he discovered the Ring, half-buried in the river-bed. |

Lord of the Rings
Loading RSS data...
The Hobbit
Loading RSS data...
Refresh
·
Read more
The One Wiki to Rule Them All, previously the Lord of the Rings Wiki, is Not in any way, shape, or form affiliated with Saul Zaentz, Middle-earth Enterprises, the Tolkien Estate, New Line Cinema, or Wingnut Films.


Copyrights and trademarks for the books, films, and other promotional materials are held by their respective owners and their use is allowed under the fair use clause of the Copyright Law.