Óin
Talk

0
4,609pages on
this wiki
Óin (TA 2774 - TA 2994) was a dwarf of Durin's Folk.
Óin was the older brother of Gloin and uncle of Gimli. He usually wore a brown-hooded cloak when traveling abroad.
History
Óin became a member of Thorin and Company and in TA 2941 he travelled with the company on the quest for the Lonely Mountain (Erebor). He fought in, survived the Battle of the Five Armies, and later settled in the Lonely Mountain where he probably became rich and prosperous. Forty-eight years later in TA 2989, he went to Moria with Balin and others, to recover the realm for the dwarves of Durin's Folk. Óin went off on his own to seek Third Deep and then turned back to the West-gate of Moria or the Hollin gate where the Watcher in the Water killed him.Oin also fought in the battle of Azanulbizar.
References
Portrayal in adaptations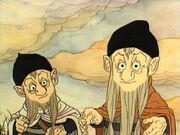 External link